We have redesigned RHB Reflex to make the navigation more intuitive and convenient.If you are the Basic Package customer, you may download our Reflex Quick Starter Guide and Forget Password Guide by clicking the link.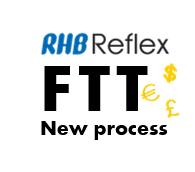 Effective 13th August 2019 onwards, there will be changes to Reflex Foreign Telegraphic Transfer (FTT) processes. For more information, please read the details in Reflex Post Login Alert/Notices or contact Customer Care Centre at 03-92068118 or email to reflex.support@rhbgroup.com

RHB Reflex Secure Plus Token is a digital token which is embedded within the RHB Reflex Mobile App. (Applicable for new Reflex applications and all Reflex token service requests)
**Note: users may still continue to use their old tokens to access RHB Reflex.

1. Do not reveal any form of confidential information, be it personal or account related, via pop-up message or email link. 2. Do not respond to any form of account information update request via suspicious pop-up message or email link.

3. Always verify to ensure the URL or website address against the bank's actual website address i.e. xxx. 4. Do not share your User ID, Password / Passcode, Challenge Response and Security Token with anyone